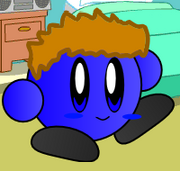 Z Kirby is a Kirby OC which was made by BLOCK_STRIKE, who mostly goes as ImplictBullet or Implict. (NOT TO BE MISTAKEN WITH L KIRBY!)
Information
Z Kirby is a male Kirby OC which was created in Late 2017-Early 2018 (Date not 100% known yet)
Z Kirby has the appearance of a Blue Kirby with Brown Hair and Grey Shoes
Z Kirby is 15 years old and mostly enjoys comedy, which is why he has a stupid personality, Z Kirby first appeared in a project called "Add Yourself at the Beach" and had no hair at the time.
Trivia
Z Kirby was originally only going to be a 16-Bit Sprite but was changed to vector a few months later.
The Z in his name stands for Zeph which makes his full name Zeph Kirby. (The Z in Z Strike (another OC made by BLOCK_STRIKE) does not stand for Zeph)
If you wish to write more information about Z Kirby, ask what you want me to write.
This page was created by BLOCK_STRIKE/ImplictBullet.